Pain is NOT normal… so why put up with it?
---
SCENAR Therapy
Have other treatments failed you?
Are you still suffering from
PAIN and dysfunction after months or even years?
Then it is time to try SCENAR Therapy!
In my 10 years of experience as a trained therapist,
I have with the help of SCENAR technology,
helped many people regain a better quality of life.
Manfred Wagner
 Accredited SCENAR Therapist
Treatment for:
Acute and chronic pain
Joint and muscle pain
Back and neck pain
Sports injuries
Riding injuries
Nerve damage
Inflammation
Low energy
Stiffness … and more
SCENAR PAIN AND WELLNESS THERAPY
---
Alleviate Pain
SCENAR can naturally relieve pain without the use of drugs or surgery.
Return Greater Mobility
SCENAR can treat issues that limit mobility such as joint and muscle pain, sport and riding injuries, nerve damage, imflamation, stiffness and more…
Improve Function
SCENAR treatment is completely pain-free and safe and as disability reduces function improves
Accelerate Healing
SCENAR sends gentle electrical impulses that communicate with the nervous system to stimulate the body's own healing process.
Safe & Natural Way to Relieve Pain
---
---
SCENAR has a high success rate of helping people of all ages. SCENAR acts non invasively through the skin, using interactive reflex response biofeedback, causing nerve innervation in the nervous system. SCENAR therapy can be used on a wide range and most types of disorders, medical conditions or injury. These include musculo-skeletal, circulatory, respiratory, digestive, urinary , neurological, ENT, skin conditions and dental problems.
---
---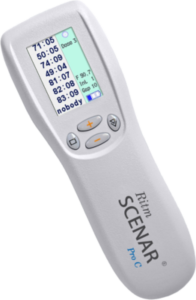 Wes Lawton  (Glenrowan)
I first heard of Manfred's  Scenar therapy practice through a person who  had great   [ nearly unbelievable ] success with a back issue that had left him living his day in an armchair. I still approached this with some scepticism as I had over eighteen years tried everything there is to relieve pain [ except drugs which only end up giving you other problems down the track ] in my neck which was a result of a motorcycle accident where I had broken C1,C2,C3 and C4, and am very lucky to be able to be typing this letter…
Ian Bransden  (Myrtleford)
In April 2016 after having suffered from severe Lower Back & Neck Pain for many years – with little or no relief from medication – I tried "SCENAR" Therapy. I was a little pessimistic at first – however after my first treatment with Manfred – I had almost instant relief. Due to the  absence of pain I have now, after many years been able to return to  "Full Time" work in the building trade. I was so impressed with the technology and the relief it gave me, I bought the smaller "Personal Enar" machine for my personal and immediate home use.
Pat Solari  (Myrtleford)
A shattered tendon in the shoulder is painful and disabilitating, Cortisone injections made no impact, as operation was needed.
But first I was referred to Manfred for SCENAR therapy.
After several treatments mobility was back and I was painfree. 5 years later I am still painfree and have full mobility of arm and shoulder without an operation. All thanks to SCENAR.